Exclusive photos from Beyoncé's Black is King album: Yemi Alade, Lupita Nyong'O, others feature in visual album
American singer Beyonce will be releasing a visual album for her The Gift project and just like she did in the past, the musician is set to celebrate African creatives and give them a chance at global recognition legit.ng report.
Beyonce is set to release the project titled Black Is King in collaboration with Disney TV on July 31. Interestingly, a trailer has been shared on social media that already has fans salivating over what to expect from the diva.
Nigerian fans are also super excited about the project as a celebrated singer, Yemi Alade, who featured on the audio album is also making an appearance in the visual.
The Shekere crooner was spotted rocking an artsy outfit in a still image from the trailer. Popular Nigeran music video director, Meji Alabi, is also said to be among those who worked on the project.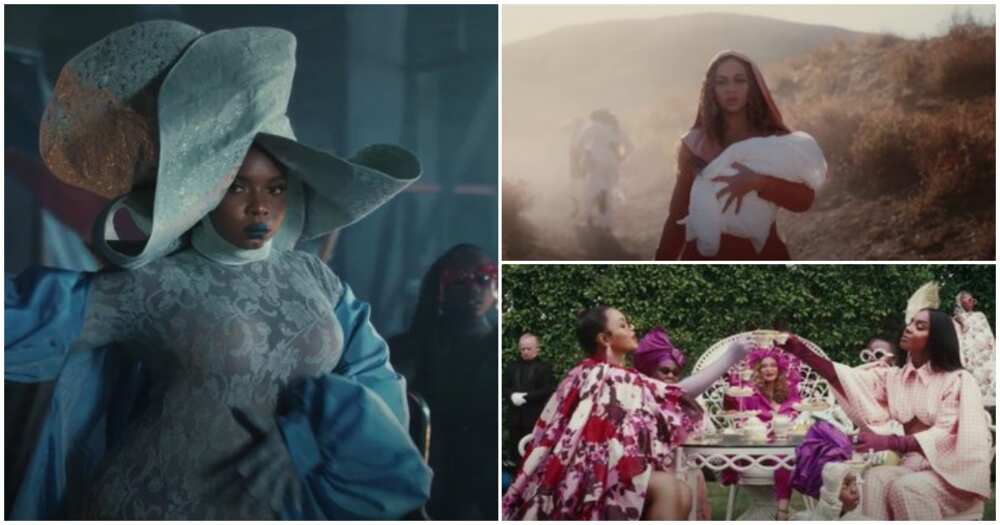 Apart from the two Nigerian creatives, Hollywood star and Kenyan-Mexican actress, Lupita Nyong'O, was also featured in Beyonce's visual album.
Nyongo was spotted in what appeared to be a tea party scene from the project. She was seen alongside Beyonce, the singer's mother, and Kelly Rowland.
Sharing the photos, popular media Soundcity tweeted: "Yemi Alade stars alongside Bey, Lupita Nyongo, others in the visual album from Beyoncé #BlackisKing which reimagines the lessons of 'The Lion King' for today's young queens. Director Meji Alabi also contributes to the film. Out this July!"
See pictures below:
Yemi Alade stars alongside Bey, Lupita Nyongo, others in the visual album from Beyoncé #BlackisKing which reimagines the lessons of "The Lion King" for today's young queens. Director Meji Alabi also contributes to the film. Out this July!

The world to Africa, yes?

Soundcity! pic.twitter.com/PpxtkwptUz

— SOUNDCITY AFRICA! (@SOUNDCITYtv) July 19, 2020