Juaben Traditional Council opens on Omanhene forcing Assembly Members to kneel
The Juaben Traditional Council has debunked allegations that Assembly Members within the area were forced to kneel before Juabenhene for rejecting President Akufo-Addo's nominee for the Municipal Chief Executive (MCE) position.
According to the Traditional Council, despite the fact that Omanhene had a meeting with the Assembly Members, reports making rounds on social media are contrary to the facts of the situation.
"At no point was any Assembly Member forced to kneel for voting against the Nominee. After all the Omanhene had no mechanism to know how members voted," the Council disclosed in a rejoinder.
The Registrar to the Traditional Council, Kwaku Ankomah who signed the Rejoinder said the allegations against the Omanhene are pure propaganda and vicious lies.
Below is the rejoinder from the Juaben Traditional Council.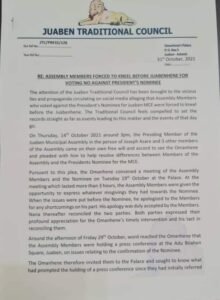 Read More News HERE.
Source: Starrfm.com.gh