Top 10 trending Black natural hairstyle of the year
If you have natural hair that is medium-length, you probably do not realize how lucky you are. This length is the most versatile, and you can try a lot of natural hairstyles for black which are also simple and comfortable. We will show you some of the most popular black natural hairstyles for medium length hair that you can rock this season! 
African ladies who have natural hair can try plenty of options and look absolutely unique. Medium hair is probably the best for experimenting – you can include a lot of various elements in your new look. If you have had the same hairstyle for black for ages and have no idea where to start with your new one, you can have a quick look at this compilation of popular options. We hope you will get inspired by these lovely hairstyles for black women!
1. Natural curls with flat twist
If you are not keen on wearing the full updo, you can simply pull your hair away from your face. This interesting hairstyle can work both as an everyday look and the special event one. By the way, dividing your hair into sections has a lot of appeal and dimension.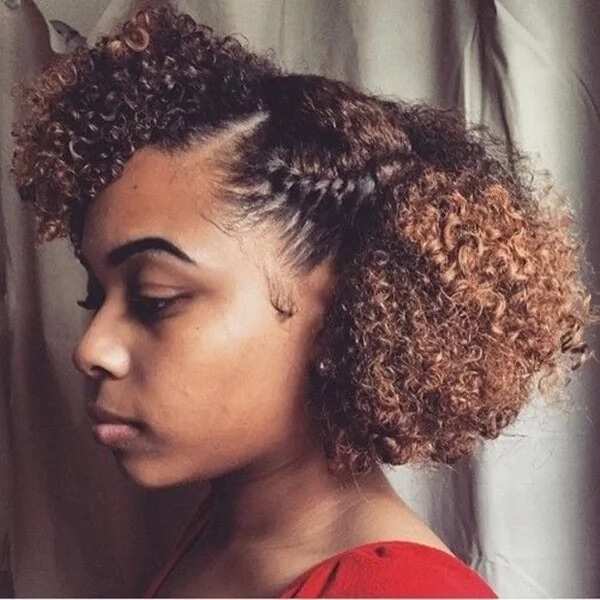 2. Double buns on natural hair
In case you love the playful hairstyle and are planning on going out with friends, you can gather your natural hair into double buns. It is quite easy and quick, and you can decorate your double buns with different hairpins, beads, and other stuff to make it more unique and memorable.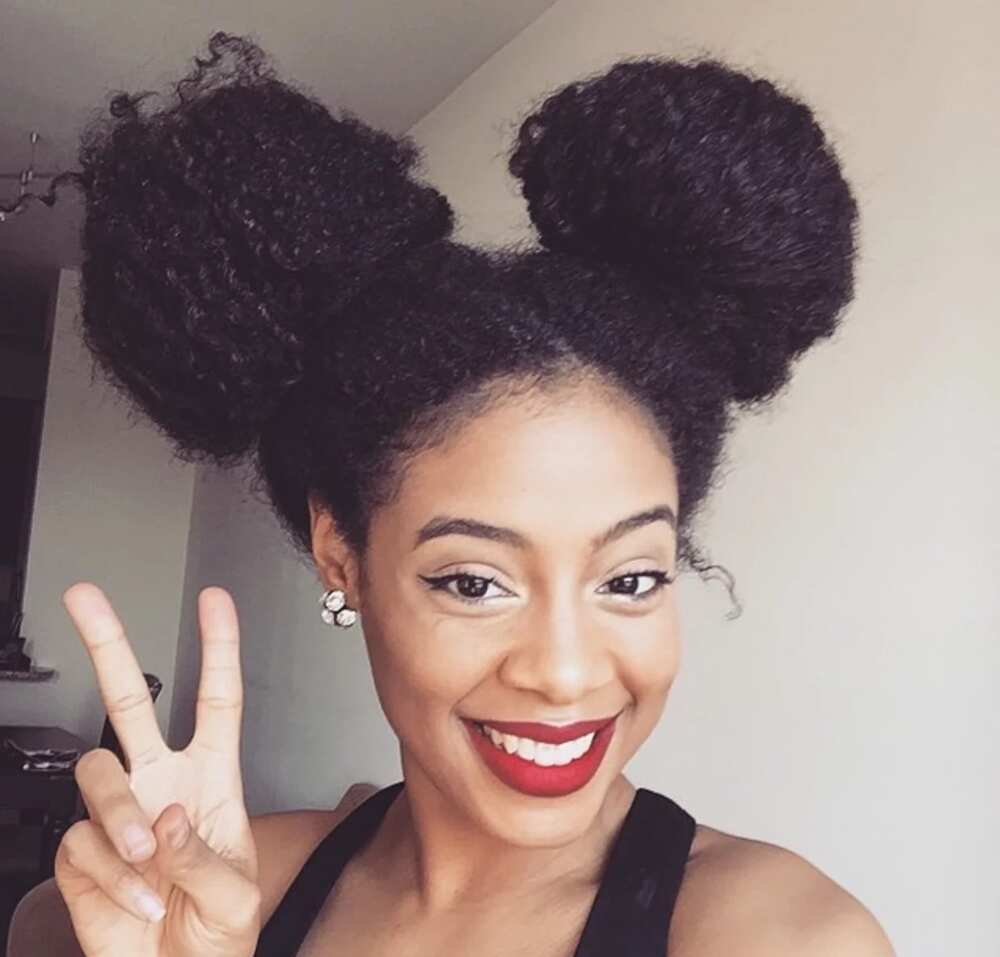 3. Chunky flat twist updo
In case you have been using the flat twists for creating the twist-out hairstyles with texture, you can also try something new with this chunky flat twist. It is chic and would go well for a special occasion. It will definitely attract the eye of everyone in the room.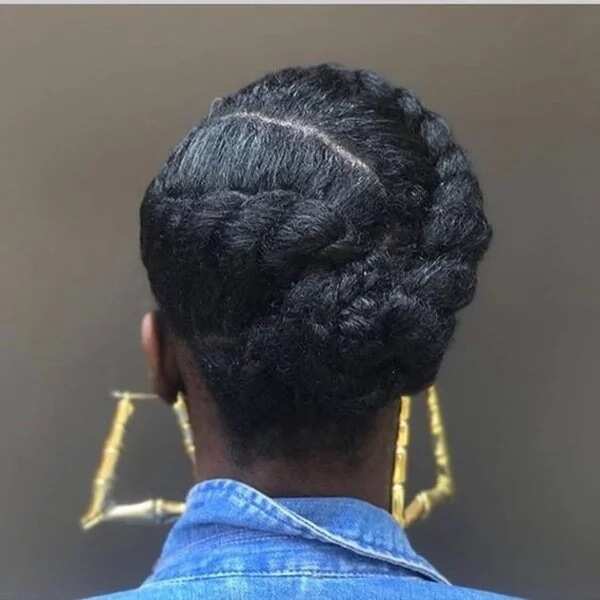 4. Skinny side braids
While the curls are outright gorgeous, the curls combined with braids will give a double effect. A couple of side braids will help to pull your naturally curly hair away from the face and add some charm to your look. It will perfectly suit for the night out in town with your friends. This hairstyle is versatile and it takes not so long to style it.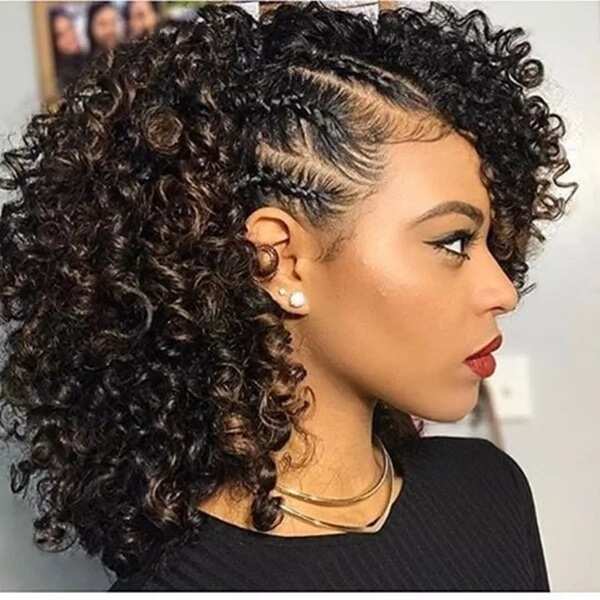 5. Half-up double buns
This hairstyle is definitely something new. It is good for keeping your hair away from your face while also showing the volume and beauty of your natural hair. This style is perfect for casual outings when you would like your hair to look fun and cute without a lot of effort.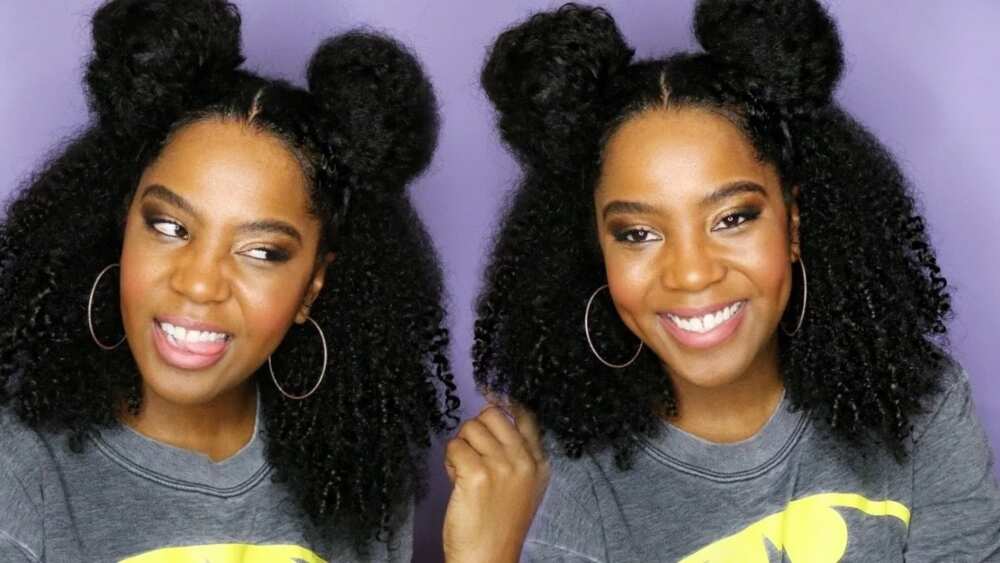 6. The bun with curly bangs
Attractive, fresh, and trendy – this hairdo will make you the center of attention. The lovely bangs will help to emphasize the beauty of your eyes and add some softness to your general look, in contrast to the rather severe look of complete pull back. It is one of the most interesting black natural curly hairstyles for medium hair, which definitely reflects the spirit of Africa.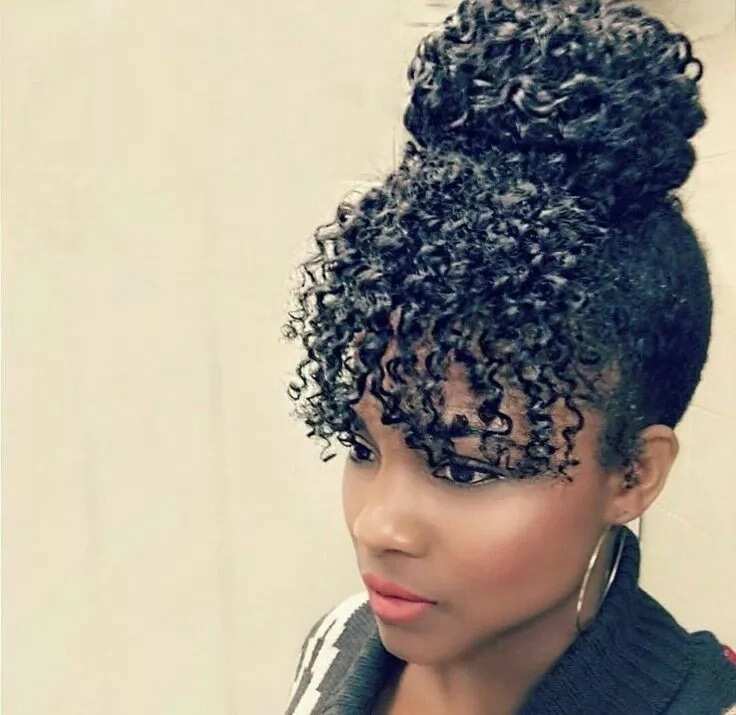 7. Natural frohawk
This is one of the edgiest updos for natural hair. It will perfectly show your texture and add some unique African glamour to your image. Besides, it is really easy to style, and it visually makes your face look slim. You can also decorate it with side braids or shaved out patterns if you wish.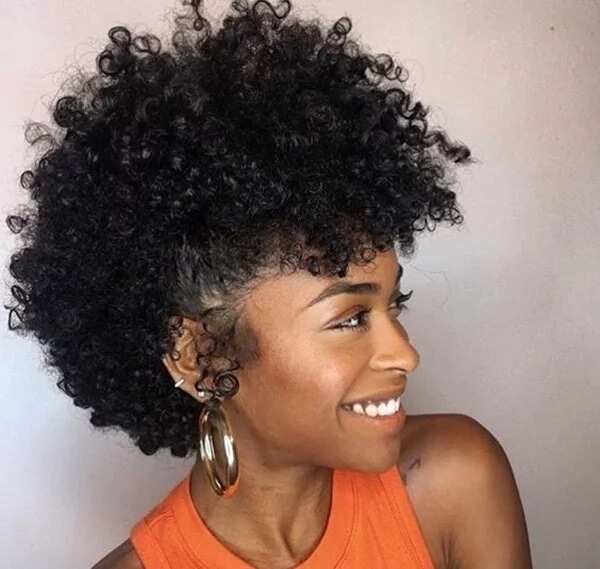 8. Messy half-updo
For the most rebellious girls, there is a messy semi-updo option, which will definitely make everyone talk about you. Making a half-up ponytail will leave a lot of room to demonstrate the volume and texture of your curly hair. This look will help you pump it up when you feel like regular curls look slightly flat on you.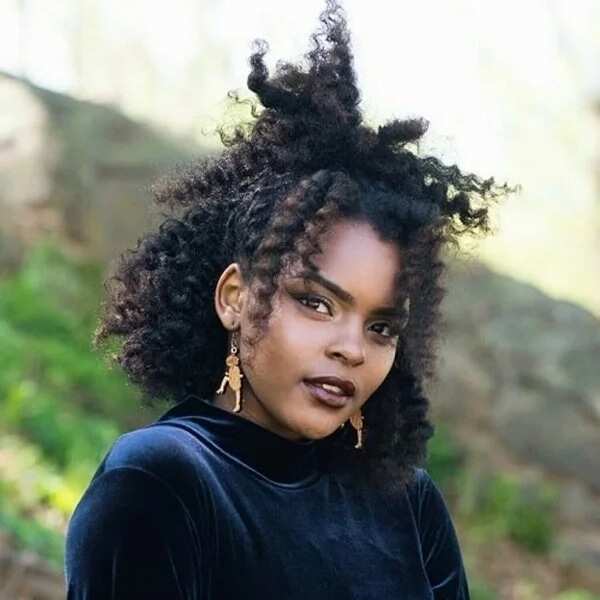 9. Twin Dutch braid buns
While this hairdo looks elite and classy, it can also look cool and edgy, depending on which style you choose to combine with it. Either way, the braid buns look absolutely cute on middle length natural hair, and everyone will admire your ability to make creative hairstyles.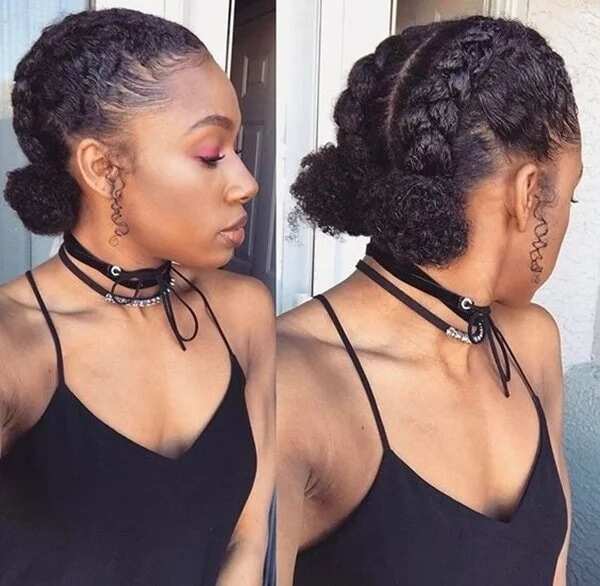 10. Four flat twists into two low buns
For middle-length hair, there is no better hairstyle. It showcases your individuality and makes you look like you descend from royalty. Even though braided hairstyles require some skill or help from your friends or stylist, this one is quite easy to do even for beginners. This look will last for long and protect your natural hair.